Living in an apartment is great, but it can cramp your style if it has a small bedroom. Check out Marriott Constructions' tips below on how to maximise your apartment bedroom.
It's time to get a daybed
You don't need to buy a single or double bed just to be comfortable in your apartment. If space is at a premium at home, then check out daybeds. Homeowners now have a wide array of daybeds to choose from, including vintage Chinese daybeds with intricately carved, as well as modern ones that have storage underneath. There are even daybeds that also double as trundle beds for when you have a guest over.
Living in an apartment can be difficult if you own a lot of books and clothes. If you loathe getting rid of some of these items, then it's best to install smart shelving and storage in your bedroom. Have your contractor customise some pull-out shelves for your clothes or shoes, and maximise corners by installing some V-shaped floating shelves for your books. Use plastic or rattan boxes to organise underwear and towels. You can also use the space beneath your bed to store blankets, towels, and clothes.
Queen-sized beds and chunky nightstands are a big no-no for smaller apartments. To expand your bedroom's elbow room, make sure to purchase narrow and compact furniture. Choose a single bed if you're not planning to share your room, as well as compact dressers that hug the wall so there's extra space for you to walk on. Get a narrow settee that you can place at the foot of your bed, or you can maximise it further by buying one that also doubles as a box where you can keep your blankets and your pillowcases.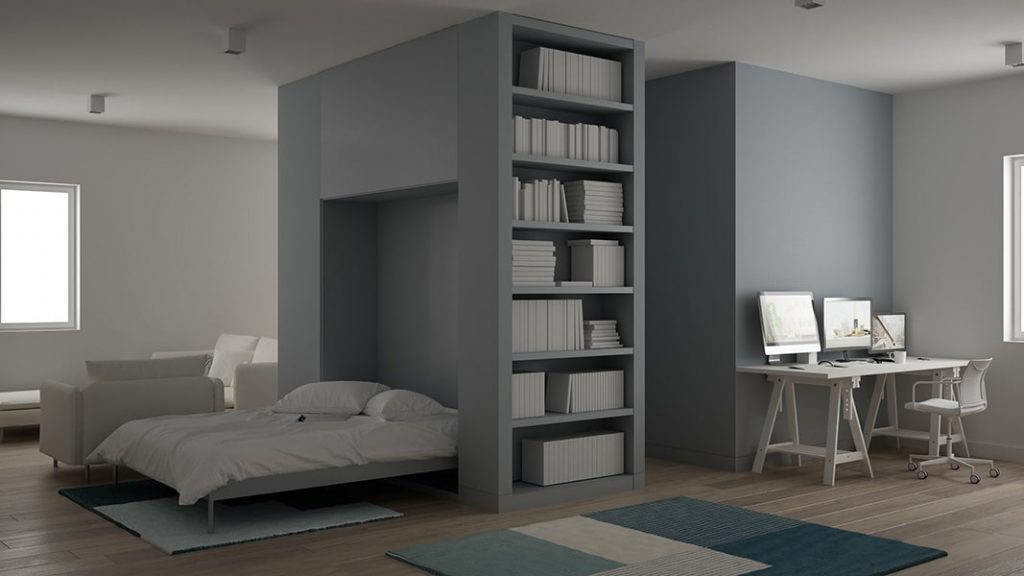 Install a modern Murphy bed
A full-size king or queen bed is fantastic, but it can be a tad impractical if you live in an apartment. You can take advantage of every inch of space you have by installing a Murphy bed instead. Simply pull the bed down from storage when it's time to snooze and pull it back up come morning. If you work from home, you can have your Murphy bed customised by installing a table and some drawers at the sides.
Install some shelves and a table under a loft bed
Working from home can be a hassle if you work from your kitchen table. Get more space by having some skilled contractors build a custom loft bed, as well as a table and some shelves and drawers underneath.
Nightstands are a must-have for any bedroom, but they can add to the clutter if they're bulky. You can replace them with nesting tables that are compact yet offer additional space. Some nesting tables even double as stools that you can use while working from home. If you can't find some nesting tables, then check out tray tables or simple accent tables.
Install a ceiling fan with lights or hanging lights
No matter how compact they are, table and floor lamps still take up space. Free up some floor space by installing some hanging lights or even a ceiling fan that comes with lamps.
Install a full-length mirror
Mirrors are fantastic when it comes to making a room seem larger. You can choose a very simple full-length mirror without a frame or an antique one with an intricately carved frame.