On A Budget? Decorate Your Small Apartment in Style
Most of us started out living in an apartment when we got our first job. It can be liberating because you have all this space for yourself and no ones going to tell you not to let the dishes pile up or when it's time to vacuum the floor. But it has its challenges, too. Apartments are often on the small–ish side, so decorating can be challenging. And if you hit a financial roadblock lately, then you know how difficult it is to decorate your space with just a few hundred dollars in your bank account.
If this is your dilemma, check out a few handy tips from Marriott Constructions on how to decorate a small apartment on a budget.
Refresh your wall with some patterned or brightly coloured wallpaper
Wallpapers are fantastic for reinvigorating a small apartment, as well as to cover up cracks and other imperfections in the wall. Wallpaper patterns have been updated to include vivid flora and fauna prints, modern geometric lines, and even striking three–dimensional ones. Of course, floral prints never go out of style, but these are not your grandma's wallpaper that looks like something straight out of a 1960s sitcom.
Have your walls repainted
If you have a little bit of money to spare, then you might want to go beyond hanging wallpaper and go all out on painting the wall. When it comes to colour choices, white is always a sensible option as it is a bit cheaper by the can and you can always repaint dirty portions at the drop of a hat. But if you want to brighten a room without breaking the bank, then start with an accent wall. All you need is a bucket or two of paint to bring some colour to the wall behind your sofa or the space behind your bookshelves.
Head over to a garage or estate sale for second-hand furniture
Attending an estate or garage sale is a good way to score quality furniture for a fraction of the original price. Some hotels that have gone out of business or are undergoing renovation also sell their used furniture to the general public. In addition, you can buy great furniture from websites, such as Gumtree and eBay, as well as re–use centres all over the city.
Score some affordable art pieces
A small art gallery featuring local artists can be a great source of affordable art pieces for your small apartment. You can also buy tasteful paintings and sculptures from garage sales and online stores. But if your budget is tight, you can always make your own and frame it. Better yet, print some photographs and put them in simple black frames to make your living room stand out.
Another great way to freshen up your haven is to install some new faucets. You don't have to install touchless faucets as those can be expensive. Just update your dirty and clogged faucets with shiny chrome or understated brass ones. Black faucets are also in vogue this year.
You don't have to do anything drastic just to give your home a makeover. Simply buy some new pillowcases for your throw pillows and watch your sofa transform in seconds. Geometric patterns and floral prints are in, as well as bold colours, such as apricot, navy, and emerald green.
Install some new lighting
Another way to decorate your small apartment without spending too much is to invest in some modern pendant lights or wall lights. Pendant lights, in particular, are fantastic for smaller homes as they do not take up that much–needed floor space.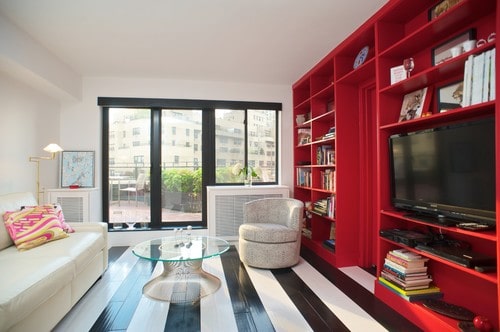 You'll never go wrong with pairing rich red with classic favourites, says our design experts at Marriott Constructions. Here you have some shelves painted in fiery vermillion, providing a stark contrast against the all-white walls and furniture. The black trims and the contrasting stripes offer a contemporary touch to any home.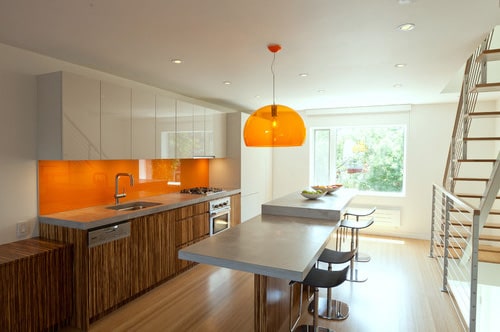 Few homeowners like the colour orange as it can be hard to pull off. But if you're one of those people who likes a tropical vibe at home, then go ahead and use orange in your apartment. But make sure to keep it to a minimum (like the backsplash and pendant light right here) so it won't be overpowering. And pair it with rich browns and timeless white to balance it out.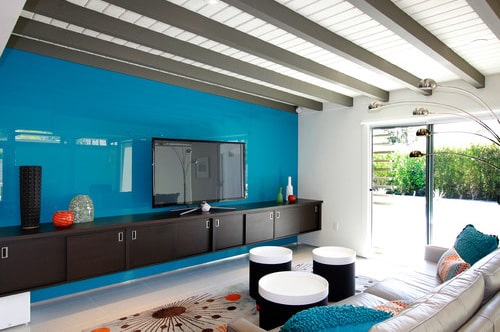 Brilliant blues break up the monotony of grey, black, and white in this ultra-modern living room. The accent wall is awash in vivid cerulean, while a pair of bright blue throw pillows provide a splash of colour against a plain white sofa.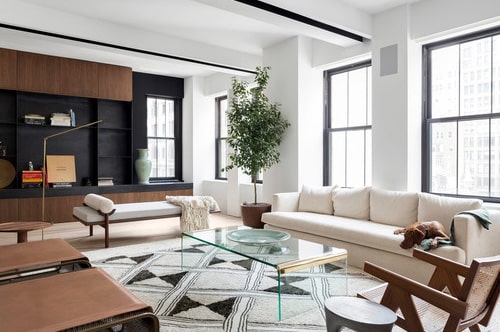 You'll never go wrong with neutrals. The furniture is tastefully mixed and matched in this home — a block of white here, some rich brows there, and some black trims on the ceiling. What's great about it is you're free to add some brighter colours later on if you feel that it's too boring.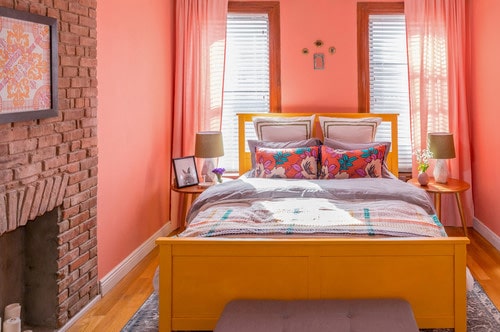 Nothing speaks warmth like pastels do, especially soft pinks and violets. The wall is painted a solid amaranth pink with matching curtains, lending the room a bright and welcoming look. Its pairing with lilac sheets and pillowcases is sheer genius.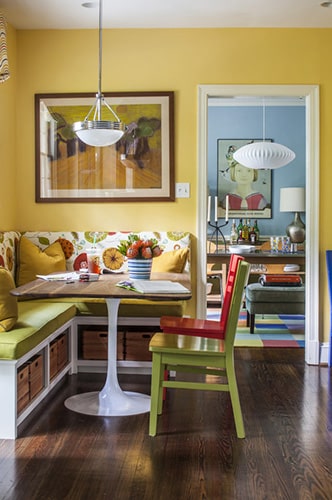 Yellow is a fun colour to play around with. It's not easy to mix and match, but it rewards you once you pull it off. The pale yellow wall is the focal point of this room, and it is made more festive with the inclusion of the red, olive, and blue chairs. To complete the refreshing look, the homeowners choose to add a fun tropical print upholstery.
Grey has been a consistent favourite of homeowners for many years. It's easy to match it with other colours, and it is elegant in its own way. It can be dreary, though, so mix it with a vivid colour like orange or copper. If you want to play it safe, though, you can always pair it with cream.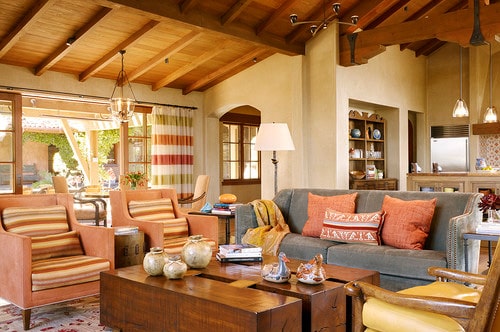 Be fearless and bold by mixing and matching different colours. The muted blue couch gives this Mediterranean home a classic feel, while the multicoloured curtains, peach armchairs, and patterned seats and throw pillows give the living room a festive look.
You don't have to hang a small anchor or a boat's wheel on your wall if you want to pull off a nautical atmosphere. Nautical themes dominate this room with its dark blue armchair, chequered ottomans, and muted blue accent wall behind the shelves. The framed photograph, the two-tone paintings, and the blue and white ceramics complete this refreshing living room.